From September 13th to 15th, North America's largest battery and electric vehicle technology trade show - the battery show held in Novi, Michigan, USA. Hundreds of batteries and EV/HEV technology suppliers showcased their components, introduced new technologies and offered live products.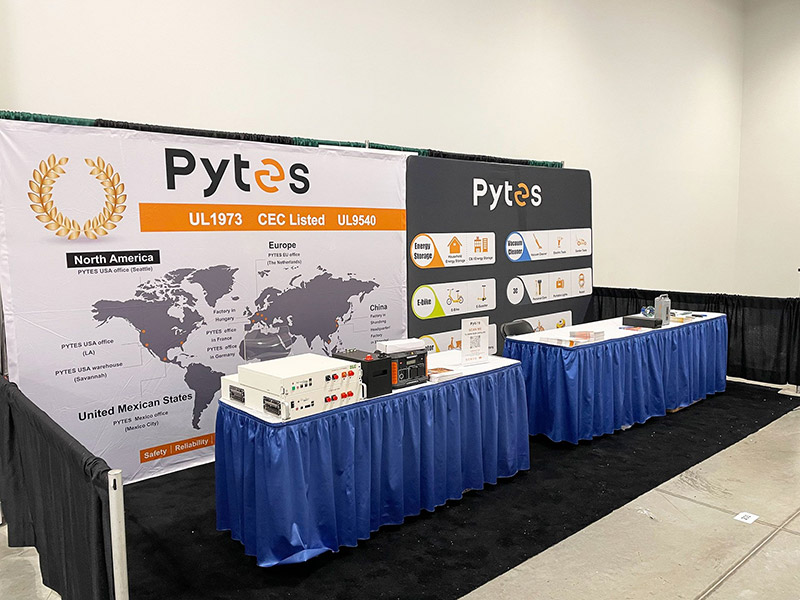 Pytes also brought its leading products, E-BOX 48100R battery, battery cabinet R-BOX, and the upcoming E-BOX-12100 battery, Ecox portable power station to the show. This is also the debut of these two new products. The booth of Pytes attracted a large number of visitors, many buyers, executives and decision makers came, and there was an endless stream of people coming and going.
For harsh environments, Pytes has developed the E-BOX-12100 battery. It is a new generation of high current carrying Lithium Iron Phosphate (LFP) energy storage batteries with a battery capacity of 100Ah, and can operate at temperatures as low as minus 20 ℃. It is compact in structure, robust in design, advanced in performance, stable in long-term operation and long in service. The battery has a wide range of application scenarios, such as boating and sailing batteries, RVs, vans and campers, and can also be used as home energy storage, off-grid energy storage, solar energy storage, DIY power walls, emergency power.
In response to outdoor light travel scenarios, Pytes released the new Ecox portable power station. The sturdy handle and light weight make it easy to carry and ideal for outdoor activities like camping, road trips, backyard camping and more. It can be charged either by mains, on-board, or by solar panels, allowing users to enjoy unlimited power even in the event of a power outage or off-grid.
"It is a great pleasure to participate in the battery show and communicate with partners who are also concerned about the battery industry," said Hermann Liu, a spokesperson for Pytes. "The perfect combination of the conference and the exhibition provides a unique platform. Let us work together to create green in the future, and Pytes will work harder to provide more green energy solutions."