Battery energy storage manufacturer Pytes has announced that is has successfully completed the rigorous testing and evaluation to receive the UL 9540 certification for its residential energy storage batteries, combined with Sol-Ark inverters. Pytes believes that this achievement will pave a way for its sustained growth globally, especially in the North American market.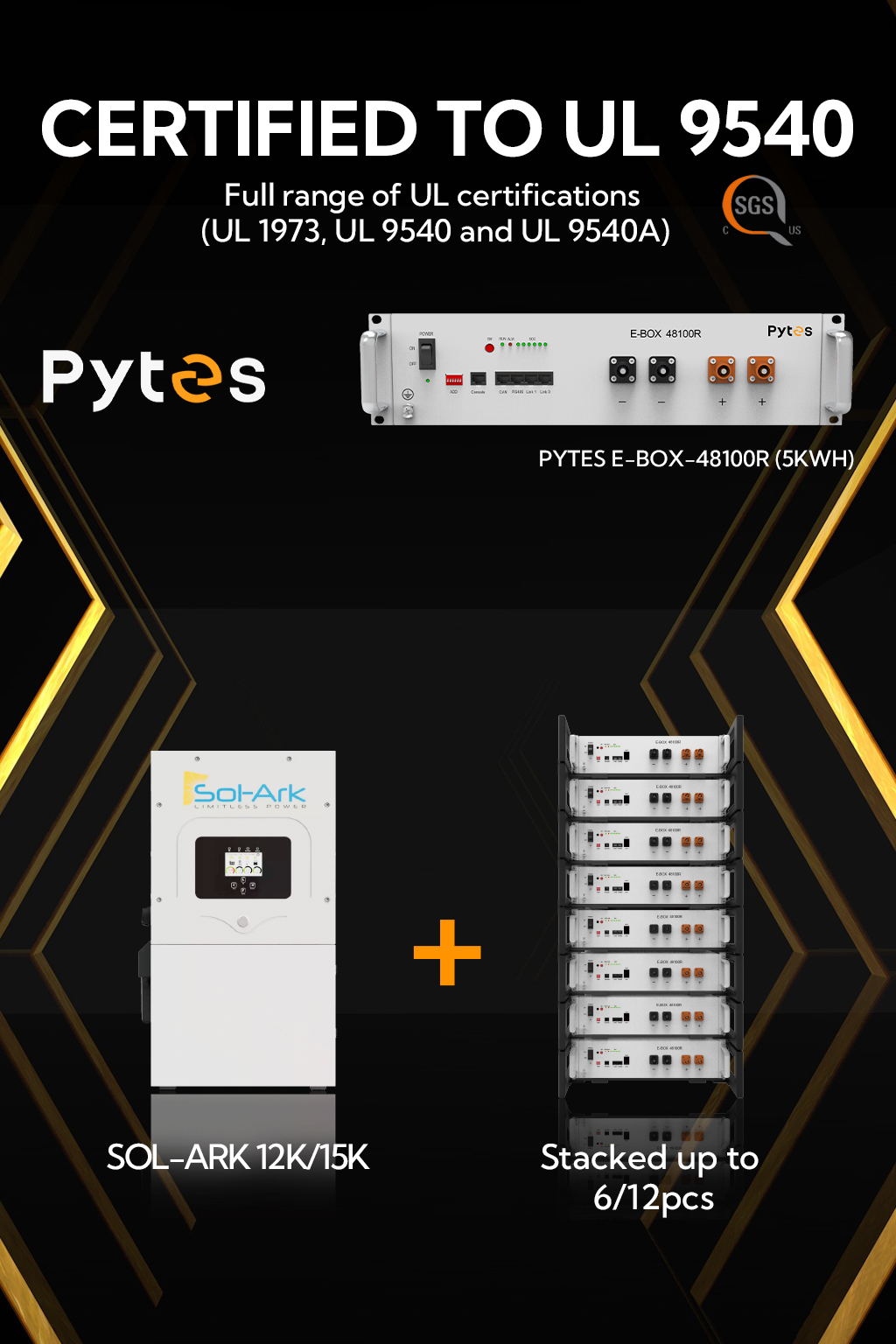 The UL 9540 certification is the North American safety standard for energy storage systems (ESS) and equipment. The standard mainly concerns system safety from all possible facets, including the battery system itself, containment, functionality, fire detection and suppression, and environmental performance of the ESS. Receiving the UL 9540 certification confirms the safety and reliability of Pytes' energy storage system and demonstrates its compliance with industry safety standards.
Pytes' residential energy storage batteries are based on lithium iron phosphate technology, the safest of its kind. Unlike most EES batteries which are made from cylindrical cells, Pytes' batteries adopt prismatic cells for higher performance, lifespan and safety. Take 48100R batteries for example, this cobalt-free lithium iron phosphate battery is packed with 5.12 kWh of energy and 2.56 kW continuous charge/discharge ability, confident with 6000 cycles in 10 years warranty, all secured in a 112.5lbs body. Pytes also equips the battery with a proprietary high current battery management system (BMS) which provides overall and comprehensive protection. The BMS comes with closed-loop communication and automatically manages the charge and discharge configurations, balancing batteries and improving performance. Integrated with Sol-Ark 12K or 15K inverters, the batteries easily form flexible residential ESS to the 20 kWh limit of UL 9540.
"Partnered with Sol-Ark hybrid inverters, Pytes' LFP batteries are gaining popularity among our customers," noted Echo Wang, head of the Pytes USA subsidiary. "Pytes is now one of only a few lithium battery manufacturers that are UL9540 listed and definitely the most cost-effective one. Pytes 48100R has the full range of UL certifications (UL 1973, UL 9540 with Sol-Ark, and UL 9540(A)), which enables quicker installation and permit approval with the local authorities. Our dear customers can now install Pytes batteries worry-free."
ABOUT PYTES
Pytes, formerly known as DLG, has been providing innovative clean energy solutions globally for decades. Pytes' residential energy storage systems are well known for their safety, reliability, competitive pricing and good services, covering a vast range of products and services including LFP batteries, photovoltaic inverters, battery management systems, cloud monitoring, installation, maintenance and much more.
ABOUT SOL-ARK:
Sol-Ark is a solar and energy storage technology firm designing and manufacturing multiple inverters and load management devices. The Sol-Ark all-in-one hybrid inverters are best-in-class technology with speed, efficiency, and power as their main advantages, as well as great versatility. Continuing to expand the innovative offering in-depth and capability, Sol-Ark added string inverters and micro-inverters enabling a broad diversity of application types.